Respond Wellbeing Program
RESPOND is a proactive skill building wellbeing program, specifically designed to teach people who work in healthcare the skills they need to respond more effectively to stress, training minds and regulating emotions. It focuses on prevention and early intervention, aiming to reduce the risk of stress, mental illness and burnout giving healthcare workers practical strategies and tools they can use every day.
RESPOND Wellbeing Program is for healthcare workers of all kinds.
If you work in healthcare in a support role, in administration, or face to face with patients and clients. RESPOND is for you.
Respond focus areas:
Mindfulness and compassion  |  Emotional regulation and intelligence |  Resilience  |  Wellbeing and self care  |  Team and individual performance  | Sustainability.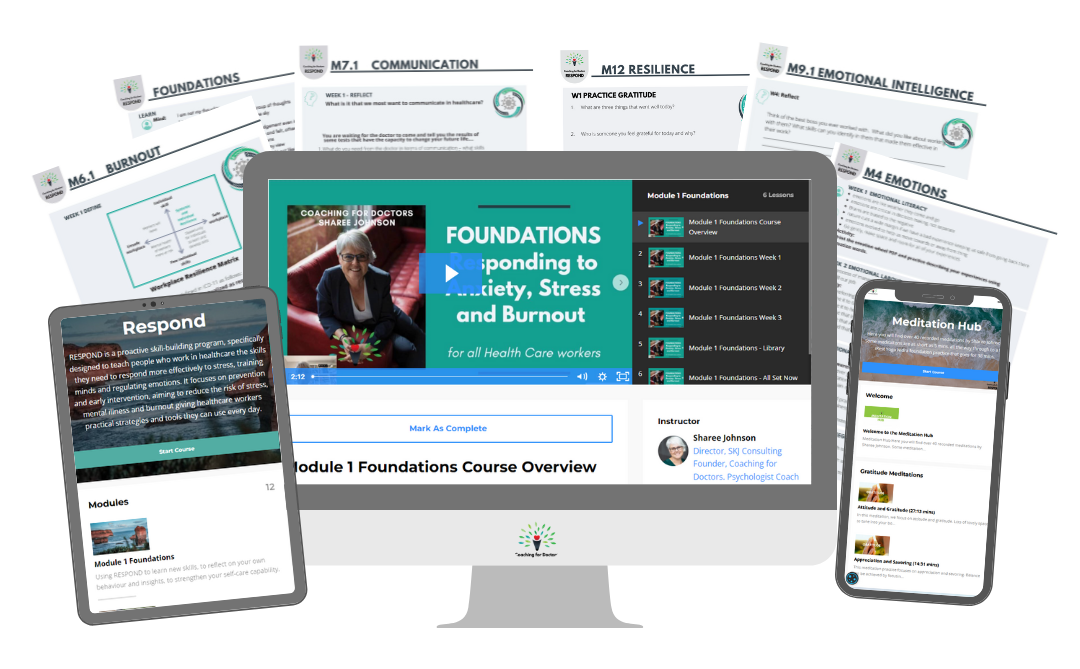 Our RESPOND program is currently not available. Please check back later and subscribe to keep in touch.
What's included in Respond Wellbeing program:
12 Modules (one per month or completed at your own pace)

Worksheets to accompany each Module

40+ Meditations to access anytime in the Meditation Hub

Mobile friendly on our course app or use on Desktop


F

ully accessible content


2 yrs access to the full program.
Who is RESPOND for?
Respond Wellbeing Program has been developed by Share Johnson, Psychologist, Executive Coach. Sharee created RESPOND, specifically for all people who work in healthcare to develop the skills they need to be well and to reduce the risk of burnout and Recalibrate an immersive development program for doctors.
All of Sharee's work is about giving individual people the skills they need to have a long term sustainable career in health that is fulfilling and joyful.
Sharee believes that by collectively raising our skills in emotional intelligence, emotional regulation, mindfulness and compassion, we will change the way we "do" healthcare for everyone's benefit.